Read some tips, tricks, questions & answers, insights and info about Matchmaking below!
Our expert Matchmakers provide responses to common questions regarding what works, how much things cost, what the different types of matchmaking services do and even in-depth, researched reports on dating for singles.
Whether you're just getting started with matchmaking or are trying to learn more about dating... enjoy the following content. Don't forget our Matchmaking Blog as well!
Check out our original LoveAndMatchmaking Infographic:
Offering a great introduction to Destin and Rachel, to Love And Matchmaking and to our elite Matchmaking Services!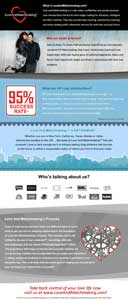 Matchmaking Q&A, Articles & Research Reports:
From in-depth research to informative articles to help you learn more about our Matchmaking Services as well as the Matchmaking industry, as well as dating tips, tricks and information.
Love And Matchmaking City Information around the U.S.
LoveAndMatchmaking's Elite Matchmaking Services are available Nationwide. Here are some featured U.S. cities.

Matchmaking in Alamo, CA
Matchmaking in Alexandria, VA
Matchmaking in Anchorage, AL
Matchmaking in Atherton, CA
Matchmaking in Atlanta, GA
Matchmaking in Austin, TX
Matchmaking in Baltimore, MD
Matchmaking in Baton Rouge, LA
Matchmaking in Beverly Hills, CA
Matchmaking in Billings, MT
Matchmaking in Birgmingham, AL
Matchmaking in Boise, ID
Matchmaking in Boston, MA
Matchmaking in Bridgeport, CT
Matchmaking in Buffalo, NY
Matchmaking in Burlington, VT
Matchmaking in Charlotte, NC
Matchmaking in Cheyenne, WY
Matchmaking in Chicago, IL
Matchmaking in Cleveland, OH
Matchmaking in Colorado Springs, CO
Matchmaking in Columbus, OH
Matchmaking in Dallas, TX
Matchmaking in Durham, NC
Matchmaking in Fairbanks, AK
Matchmaking in Fort Worth, TX
Matchmaking in Fresno, CA
Matchmaking in Ft. Lauderdale, FL
Matchmaking in Great Falls, VA
Matchmaking in Honolulu, HI
Matchmaking in Houston, TX
Matchmaking in Indianapolis, IN
Matchmaking in Jacksonville, FL
Matchmaking in Kansas City, MO
Matchmaking in Las Vegas, NV
Matchmaking in Lewisville, KY
Matchmaking in Lexington Park, MD
Matchmaking in Los Angeles, CA
Matchmaking in Manchester, NH
Matchmaking in Manhattan, NY
Matchmaking in Memphis, TN
Matchmaking in Miami, FL
Matchmaking in Milwaukee, WI
Matchmaking in Minneapolis, MN
Matchmaking in Napa, CA
Matchmaking in Nashville, TN
Matchmaking in New Orleans, LA
Matchmaking in Newark, NJ
Matchmaking in Oakland, CA
Matchmaking in Oklahoma City, OK
Matchmaking in Omaha, NE
Matchmaking in Orlando, FL
Matchmaking in Palm Beach, FL
Matchmaking in Paradise Valley, AZ
Matchmaking in Philadelphia, PA
Matchmaking in Phoenix, AZ
Matchmaking in Pittsburg, PA
Matchmaking in Portland, ME
Matchmaking in Portland, OR
Matchmaking in Providence, RI
Matchmaking in Raleigh, NC
Matchmaking in Richmond, VA
Matchmaking in Rochester, NY
Matchmaking in Sacramento, CA
Matchmaking in Salt Lake City, UT
Matchmaking in San Antonio, TX
Matchmaking in San Diego, CA
Matchmaking in San Francsico, CA
Matchmaking in San Jose, CA
Matchmaking in Santa Cruz, CA
Matchmaking in Seattle, WA
Matchmaking in Staten Island, NY
Matchmaking in Tallahassee, FL
Matchmaking in Tampa, FL
Matchmaking in Tucson, AZ
Matchmaking in Virginia Beach, VA
Matchmaking in Washington DC
Matchmaking in Wichita, KS
Matchmaking in Wilmington, NC