Read About Elite Matchmaking
Read some tips, tricks, questions & answers, insights and info about Matchmaking below!
Our expert Matchmakers provide responses to common questions regarding what works, how much things cost, what the different types of matchmaking services do and even in-depth, researched reports on dating for singles.
Whether you're just getting started with matchmaking or are trying to learn more about dating... enjoy the following content. Don't forget our Matchmaking Blog as well!

Read the latest:
Top 10 Reasons We are the Best Matchmaking Service
When it comes to chosing the right matchmaking service it is important to know that the company you are chosing is going to handle your private, delicate matters in a professional and confidential manner and that they are truly qualified to find you a match that will fit your personal preferences.
Christian Matchmaking Services
See why our Christian Matchmaking Services are ideal for Christians who want to find love with those who share their beliefs. Looking for a way to meet great Christian singles?
Game Night! 10 Sexy Games for Couples to Spice Things Up!
Staying in was never more fun than when you turn it into Game Night! Learn 10 games (some you know and some you may not) and add some extra flavor and adventure to your relationship.
Find the perfect match and meet qualified singles from across the country and across the spectrum.
The Importance of Communication in Relationships
This in-depth and highly-researched article brings the wisdom and great advice of some of the biggest names in psychology and relationship studies to help you learn how to increase communication and decrease unnecessary stress in your relationships.
Matchmaking for Seniors in Today's Digital Dating World!
Love is timeless and age doesn't mean a thing. Many Golden Age singles are innundated with online and offline options. We set the record straight about Matchmaking for older singles and we've got some info to share with you!
Check out our original LoveAndMatchmaking Infographic:
Offering a great introduction to Destin and Rachel, to Love And Matchmaking and to our elite Matchmaking Services!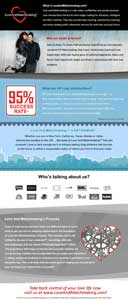 Matchmaking Q&A, Articles & Research Reports:
From in-depth research to informative articles to help you learn more about our Matchmaking Services as well as the Matchmaking industry, as well as dating tips, tricks and information.
Love And Matchmaking City Information around the U.S.
LoveAndMatchmaking's Elite Matchmaking Services are available Nationwide. Here are some featured U.S. cities.
Great Dates Across the States!
With this section we offer 10 great date ideas for great cities across the country.
20 Great Romance Adventures in Pittsburgh, PA
See the romantic side of beautiful Pittsburgh with these amazing date ideas and restaurants.
20 Awesome Date Suggestions for Paradise Valley, AZ
Enjoy the fruits of paradise with 20 romantic date ideas.
20 Hot Date Ideas for Rochest, NY
If you're in Rochester, enjoy these amazing dates and delicious restaurants!
20 Amazing Date Recommendations for San Antonio, TX.
See San Antonio in its more romantic light.

20 Romantic Date Ideas for San Francisco, CA
From great times to great food, these date ideas will show you the City By the Bay like no other.

10 Great Date Ideas for Hoboken, NJ:


Learn about terrific places, restaurants and activities in the beautiful town of Hoboken.

10 Ideas for Dates in Houston, TX:
Check these out for when you want to take a date out on the town or for some great outdoor fun in amazing Houston, Tx.

Amazing dates in Baton Rouge, LA:
We offer 10 great date ideas and 10 additinal amazing restaruants in Baton Rouge.

Beverly Hills, CA: Looking for some amazing date ideas for luxurious Beverly Hills?
Enjoy these romantic, fun and delicious suggestions!

Amazingly fun, romantic and delicious date ideas for New York City.
Take a bite out of the Big Apple in style!

Looking for some inspiring date ideas - see the romantic side of Palm Beach, FL with these great date suggestions.
Includes some amazing restaurants to wine and dine your date!

20 Romantic Date Ideas in Chocago, IL.
Dating in the Windy City has never been more fun or delicious!

20 Great Date Ideas in San Diego, CA
Enjoy beautiful San Deigo with these 20 great date ideas and 10 amazing retaurants.

20 First Date Ideas to Wow in Los Angeles, CA
Want to enjoy an amzing date in the ity of Angels? Here are our tip picks!
Matchmaking by City:
Matchmaking in Alamo, CA
Matchmaking in Alexandria, VA
Matchmaking in Anchorage, AL
Matchmaking in Atherton, CA
Matchmaking in Atlanta, GA
Matchmaking in Austin, TX
Matchmaking in Baltimore, MD
Matchmaking in Baton Rouge, LA
Matchmaking in Beverly Hills, CA
Matchmaking in Billings, MT
Matchmaking in Birgmingham, AL
Matchmaking in Boise, ID
Matchmaking in Boston, MA
Matchmaking in Bridgeport, CT
Matchmaking in Buffalo, NY
Matchmaking in Burlington, VT
Matchmaking in Charlotte, NC
Matchmaking in Cheyenne, WY
Matchmaking in Chicago, IL
Matchmaking in Cleveland, OH
Matchmaking in Colorado Springs, CO
Matchmaking in Columbus, OH
Matchmaking in Dallas, TX
Matchmaking in Durham, NC
Matchmaking in Fairbanks, AK
Matchmaking in Fort Worth, TX
Matchmaking in Fresno, CA
Matchmaking in Ft. Lauderdale, FL
Matchmaking in Great Falls, VA
Matchmaking in Hoboken, NJ
Matchmaking in Honolulu, HI
Matchmaking in Houston, TX
Matchmaking in Indianapolis, IN
Matchmaking in Jacksonville, FL
Matchmaking in Kansas City, MO
Matchmaking in Las Vegas, NV
Matchmaking in Lewisville, KY
Matchmaking in Lexington Park, MD
Matchmaking in Los Angeles, CA
Matchmaking in Manchester, NH
Matchmaking in Manhattan, NY
Matchmaking in Memphis, TN
Matchmaking in Miami, FL
Matchmaking in Milwaukee, WI
Matchmaking in Minneapolis, MN
Matchmaking in Napa, CA
Matchmaking in Nashville, TN
Matchmaking in New Orleans, LA
Matchmaking in Newark, NJ
Matchmaking in Oakland, CA
Matchmaking in Oklahoma City, OK
Matchmaking in Omaha, NE
Matchmaking in Orlando, FL
Matchmaking in Palm Beach, FL
Matchmaking in Paradise Valley, AZ
Matchmaking in Philadelphia, PA
Matchmaking in Phoenix, AZ
Matchmaking in Pittsburg, PA
Matchmaking in Portland, ME
Matchmaking in Portland, OR
Matchmaking in Providence, RI
Matchmaking in Raleigh, NC
Matchmaking in Richmond, VA
Matchmaking in Rochester, NY
Matchmaking in Sacramento, CA
Matchmaking in Salt Lake City, UT
Matchmaking in San Antonio, TX
Matchmaking in San Diego, CA
Matchmaking in San Francsico, CA
Matchmaking in San Jose, CA
Matchmaking in Santa Cruz, CA
Matchmaking in Seattle, WA
Matchmaking in Staten Island, NY
Matchmaking in Tallahassee, FL
Matchmaking in Tampa, FL
Matchmaking in Tucson, AZ
Matchmaking in Virginia Beach, VA
Matchmaking in Washington DC
Matchmaking in Wichita, KS
Matchmaking in Wilmington, NC