20 Amazingly Romantic and Fun Date Ideas in Austin, TX
Atlanta's Amorous Adventures: 20 Remarkable Date Ideas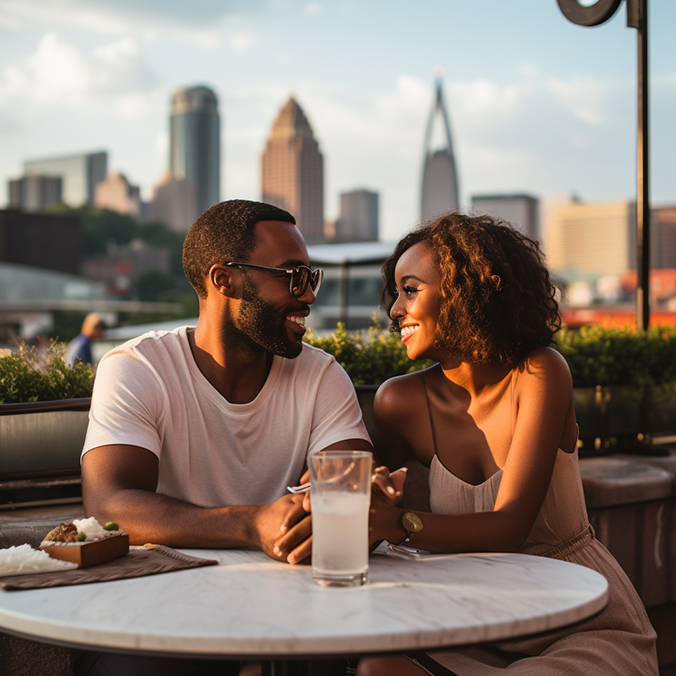 Welcome to Atlanta, where Southern charm meets urban allure, creating the perfect setting for unforgettable dates. Whether you're an adventurous couple, art aficionados, or foodies, Atlanta offers a myriad of delightful experiences. We've crafted a list of 20 unique date ideas to kindle your romance, along with 10 superb restaurants to make your Atlanta date night extra special.
If you're interested in elite Matchmaking in Atlanta, GA ~ Click here
For all of our Elite Matchmaking Services, click here.
Piedmont Park Picnic: Revel in the beauty of Piedmont Park as you enjoy a romantic picnic amidst scenic views and lovely green spaces. Website

Atlanta Botanical Garden: Explore the Atlanta Botanical Garden's enchanting flora, captivating wildlife, and mesmerizing art exhibitions. Website

Fox Theatre Show: Catch a captivating performance at the historic Fox Theatre. This opulent venue hosts a variety of shows, from Broadway musicals to concerts. Website

Atlanta BeltLine Stroll: Walk or bike along the Atlanta BeltLine, a revitalized railway corridor turned into a vibrant urban trail, featuring art installations and trendy spots. Website

High Museum of Art: Get lost in the world of art at the High Museum of Art, Atlanta's premier art museum showcasing diverse works from classic to contemporary. Website

Indoor Skydiving Adventure: For an exhilarating experience, take your date indoor skydiving at iFLY Atlanta. Feel the thrill of freefalling without jumping from a plane. Website

Stone Mountain Sunset: Hike to the top of Stone Mountain Park and witness the breathtaking sunset. It's a romantic and awe-inspiring moment. Website

Food Truck Tasting: Explore Atlanta's diverse food truck scene. From gourmet tacos to decadent desserts, you'll find an array of delectable choices.

Center for Puppetry Arts: Enjoy a unique date at the Center for Puppetry Arts, where you can immerse yourselves in the world of puppetry. Website

Hiking Sweetwater Creek State Park: Take a scenic hike through Sweetwater Creek State Park, a serene escape from the city's hustle and bustle. Website

Atlanta History Center: Explore the fascinating history of the South at the Atlanta History Center, complete with historic homes and captivating exhibits. Website

SkyView Atlanta: Share a mesmerizing ride on the SkyView Atlanta Ferris wheel, offering breathtaking views of the city's skyline. Website

King of Pops Yoga in the Park: Combine yoga and popsicles at Piedmont Park with King of Pops. A refreshing twist to the typical yoga class. Website

Zoo Atlanta Adventure: Get wild at Zoo Atlanta. It's an entertaining and educational spot for animal lovers. Website

Historic Oakland Cemetery Tour: Take a historical tour of Oakland Cemetery and discover Atlanta's rich history and unique grave markers. Website

Murder Mystery Dinner Theater: Unleash your inner detective during a thrilling murder mystery dinner theater experience. Solve the case while enjoying a delicious meal.

Skyline Park at Ponce City Market: Embrace the fun and games at Skyline Park with mini-golf, carnival-style amusements, and stunning skyline vistas. Website

Brewery Hop: Explore Atlanta's craft brewery scene by embarking on a brewery hop. Sip on local brews and enjoy the brewery atmosphere.

Atlanta Motor Speedway Racing: Experience the thrill of racing at the Atlanta Motor Speedway. Get behind the wheel or enjoy a passenger ride. Website

Live Music Night: Visit one of Atlanta's renowned live music venues. Catch a live band performance, from jazz to rock, and dance the night away.
To conclude your perfect Atlanta date night, don't miss these outstanding restaurants!
10 Atlanta Dining Hotspots:
With these captivating date ideas and delectable dining options, Atlanta provides the perfect backdrop for creating memorable moments with your loved one. Explore the city's rich culture and natural beauty while savoring exquisite cuisine. Enjoy your romantic journey in Atlanta!
Meet your perfect Match! Contact us today for a free consultation on our Elite Matchmaking services in Atlanta, GA.
Use the form below or call: (844) 489-LOVE