10 Great First Date ideas for Hoboken, New Jersey
10 First Date Ideas in Hoboken, NJ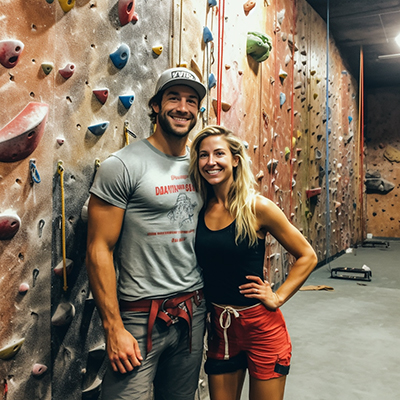 Hoboken is a city full of charm, culture, and adventure. With so many options, it can be tough to decide on the perfect first date spot. Fear not, lovebirds! I've got you covered with 10 great first date ideas that are sure to impress your special someone.
If you're interested in elite Matchmaking in Hoboken, NJ ~ Click here
For all of our Elite Matchmaking Services, click here.
Take a stroll along the waterfront There's nothing more romantic than a leisurely walk along the Hudson River waterfront with the Manhattan skyline as your backdrop. Start your date off right with a stunning view and the gentle sound of waves lapping at the shore. You can even pack a picnic and enjoy a bite to eat while watching the sunset.

Go rock climbing at Gravity Vault Want to get your blood pumping and show off your strength? Head to Gravity Vault for an exciting indoor rock climbing experience. It's a unique and fun way to get to know each other while conquering new heights. And don't worry if you're a newbie – there are plenty of beginner routes to try.

Visit the Hoboken Historical Museum If you're both history buffs, the Hoboken Historical Museum is a must-see. It's a great way to learn about the city's rich culture and past. They have unique exhibits and events, including lectures and tours that will transport you back in time.

Try your hand at kayaking For an adventurous date, head to the Hoboken Cove Boathouse and rent a kayak. Paddle your way around the Hudson River and take in the sights of the Manhattan skyline. It's a great way to bond over a shared love of the outdoors.

Grab some dessert at Carlo's Bakery If you're both foodies, a stop at Carlo's Bakery is a must. Made famous by the TV show Cake Boss, this bakery serves up some of the best desserts in town. From cannolis to cupcakes, there's something for every sweet tooth.

Have a picnic in Pier A Park Looking for a low-key date option? Pack a picnic basket and head to Pier A Park. It's a lovely spot to relax, chat, and enjoy the beautiful scenery. Bring a blanket, some snacks, and a bottle of wine, and you're all set for a romantic afternoon.

Enjoy some Italian food at Leo's Grandevous Leo's Grandevous is a Hoboken staple, known for its delicious Italian cuisine and cozy atmosphere. It's the perfect spot for a romantic dinner, with classic dishes like chicken parmigiana and spaghetti carbonara. And don't forget to save room for dessert – their tiramisu is to die for.

Have a beer at Pilsener Haus & Biergarten If you're a fan of craft beer, you won't want to miss Pilsener Haus & Biergarten. This German-inspired bar and restaurant has a wide selection of beers on tap, as well as delicious food options like sausages and pretzels. It's a great spot to relax and chat over a cold one.

Get competitive at Hudson Table Looking for a date option that's both fun and interactive? Head to Hudson Table for a cooking class. You'll learn new skills and bond over a shared love of food. Plus, you get to enjoy the fruits of your labor at the end of the class.

Dance the night away at The Brass Rail For a fun night out, head to The Brass Rail for drinks and dancing. This popular bar and nightclub has a lively atmosphere and a great selection of cocktails. It's the perfect spot to let loose and have some fun.
No matter what your interests are, Hoboken has plenty of options for a great first date. So grab your special someone and get ready for a fun and spicy adventure.
Meet your perfect Match! Contact us today for a free consultation on our Elite Matchmaking services in Hoboken, NJ.
Use the form below or call: (844) 489-LOVE